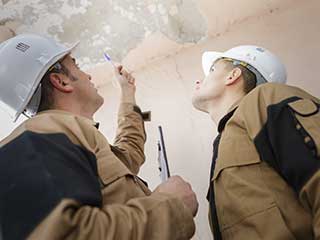 If you want to save yourself both time and money, make sure and hire professionals the first time around. Our customers most often seek our help with the projects described below, but rest assured that our team can do it all!
Superficial Cracks in Your Drywall Ceiling
Cracks in the ceiling might not seem to be a big deal, but they can be a sign of structural damage. This is why you should first inspect the framing of the room and fix any existing problems before you start dealing with the cracks. Our team will make sure the drywall is firmly attachedand then bridge the crack. We'll sand the dried joint compound, clean and prime the surface and finish the job by repainting the ceiling!
Water Damaged Ceiling
All it takes are a couple of loosened or missing shingles or plumbing problems and voila - the damage is afoot! First, you have to find the source of the damage and take care of it. Enter our team. We'll drain the ceiling if necessary, remove the damaged ceiling to prevent mold growth and further structural damage, and dry out the area.And last but not the least, our technicians will fix all the holes, whether big or small, and make your ceiling look brand new.
Ceiling Mold Removal
After a roof leak, it's wise to hire professionals to check the ceiling for signs of mold. Our technicians have both the appropriate equipment and protective gear that is absolutely necessary when dealing with mold. Also, we know how to do the job while keeping you and your family safe from mold spores. Finally, our experts will not only remove the existing mold and replace any damaged or infected sections of the ceiling, but will also prevent the mold from ever coming back and restore the ceiling to its usual self.
Remember: small problems are usually cheaper to fix which is why you should act fast when you notice something amiss with your drywall ceiling. All you need to do is call our team in Glendale and let us do what we do best!
Want more? Let us take care of:

Plaster Ceiling Repair

Drywall For Basement

Acoustic Ceiling Repair

Bathroom Tile Installation