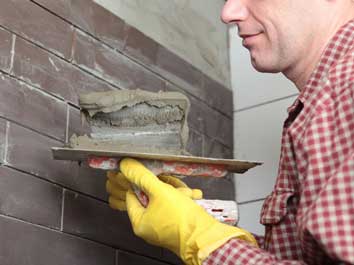 Countless Design Options To Choose From
There are a wide variety of both types of tile as well as layouts and patterns, making them a hugely versatile way to give your home a new look! Aside from aesthetically being able to suit the style of your kitchen, bathroom, or otherwise, there are other benefits to a tile installation as well. If anyone in the home is sensitive to allergies, tile is hypoallergenic compared to most other types of materials. It's resistant to water and therefore any usual damage caused by it, making it great for areas that may be prone to that kind of harm or spills. In general, it's very sturdy and durable to last for a long time, and easy to clean as well!
It'll Be Done In No Time
Our professionals can take care of the process of installing a tile backsplash or whatever else you'd like quickly and beautifully for you! We'll clean the area in question and assure that it's perfectly flat to avoid any inconstancies with the tile pattern. Using a spacer to make them even, the tile pieces will then be attached to the wall with adhesive and allowed to dry before grout is applied and sealed to keep it protected from bacteria.
We'll Help You Pick A Type
Different types of tile have both various looks as well as attributes, so our experts can assist you on determining which is best for what you're looking for! Glass requires some care and is more fragile, but it can come in a huge range of colors and designs which makes it the most versatile of them all. Ceramic is the cheapest option, while natural stone is the most expensive. However, natural stone gives a strong, bold look and often has some beautiful textures and patterns in the stone itself, particularly with granite and marble. Glazed porcelain is the least likely to have a problem with mold or bacteria, and is one of the strongest options.
Why Wait To Call Us?
Contact Drywall Repair & Remodeling Glendale today for your tile needs.
We also take care of:

Tile With Wire Mesh

Texture Ceiling Repair

Drywall With Foil Backing

Popcorn Ceiling Removal & Repair