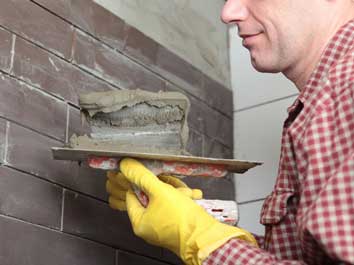 Our tile installation contractors offer customers from anywhere nearby Glendale tiling work of the highest quality. Whether you want to replace bathroom floor tiles or add marble countertops to your kitchen, we've got you covered. Our selection of wall and floor tiles includes everything from porcelain to ceramic to even laminate wood look tiles. Each option offers you different pros and cons. To help customers choose, we provide free estimates on tile installation that cover everything from materials to labor and added features. You can turn to us for consultation and advice to learn more about our tile installation services and what they have to offer you.
Ceramic and Porcelain Tiling
These two very popular types of tiles have distinct attributes that make them great for different reasons. Porcelain tends to cost more but offers you a better level of durability. Its natural white hues provide a clean and aesthetic look great for Glendale bathroom remodels. Extra moisture resistance helps insulate shower walls using porcelain tiles. Ceramic tiling offers a more affordable option, however, it does not maintain the same level of durability. The upside, though, lies with the tile installation process. Because of their hardwearing qualities, porcelain tiles are harder to install than ceramic ones.
Floating Wood Tiles
That rich and lovely texture of real timber is hard to beat for both floors and walls.
Kitchen Wall Tiles
Preventing stains on the walls of your food preparation area is important. That's why getting tiles installed on Glendale kitchen walls has become so commonplace. Tiles resist stain absorption and prove far easier to clean than drywall, plaster, and concrete. The stains and spills don't get to settle with kitchen wall tiles and therefore cleaning becomes easy and quick. We offer a range of designs for kitchen tiles, for floor and walls. You can even go with a marble mosaic for an elegant and lavish aesthetic. Not to worry, though. You can learn all about kitchen tile installation and remodeling with a free estimate from our nearby tiling contractors.
Decorative Tile Ideas
From smooth colors to ornate designs, decorative tiles can bring a real contributing aesthetic to any room. Other than bathrooms and kitchens, you can get tiles installed in any room, as floor surfaces or as wall additions. The beauty of decorative tiles in arabesque or Mediterranean designs can bring an appealing exotic look to the décor. You've got Gothic designs and even illustrations, for both ceramic tiles and porcelain. And let's not forget about marble mosaic pieces, spread in a beautiful pattern that gives your home or commercial property a decorative facelift, so to speak.
Local Glendale Tile Installers
When you want to add new tiles to a part of your property or replace old tiling for a remodel, you've got local contractors at your service. Our professionals will give you a free estimate on tile installation complete with a full consultation on every aspect of the work required. Give us a call to schedule a free appointment and see how affordable new wall and floor tile installation can become!
Countless Design Options To Choose From
There are a wide variety of both types of tile as well as layouts and patterns, making them a hugely versatile way to give your home a new look! Aside from aesthetically being able to suit the style of your kitchen, bathroom, or otherwise, there are other benefits to a tile installation as well. If anyone in the home is sensitive to allergies, tile is hypoallergenic compared to most other types of materials. It's resistant to water and therefore any usual damage caused by it, making it great for areas that may be prone to that kind of harm or spills. In general, it's very sturdy and durable to last for a long time, and easy to clean as well!
It'll Be Done In No Time
Our professionals can take care of the process of installing a tile backsplash or whatever else you'd like quickly and beautifully for you! We'll clean the area in question and assure that it's perfectly flat to avoid any inconstancies with the tile pattern. Using a spacer to make them even, the tile pieces will then be attached to the wall with adhesive and allowed to dry before grout is applied and sealed to keep it protected from bacteria.
We'll Help You Pick A Type
Different types of tile have both various looks as well as attributes, so our experts can assist you on determining which is best for what you're looking for! Glass requires some care and is more fragile, but it can come in a huge range of colors and designs which makes it the most versatile of them all. Ceramic is the cheapest option, while natural stone is the most expensive. However, natural stone gives a strong, bold look and often has some beautiful textures and patterns in the stone itself, particularly with granite and marble. Glazed porcelain is the least likely to have a problem with mold or bacteria, and is one of the strongest options.
Why Wait To Call Us?
Contact Drywall Repair & Remodeling Glendale today for your tile needs.
We also take care of:

Tile With Wire Mesh

Texture Ceiling Repair

Drywall With Foil Backing

Popcorn Ceiling Removal & Repair