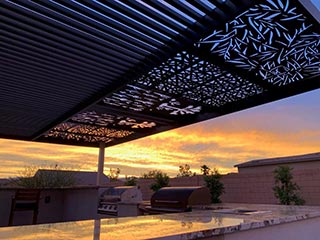 Enjoying the breeze outside thanks to your patio or deck is a wonderful sensation. But to really make the most out of this exterior setup, you'll want to take things up to the next level. How? With an outdoor kitchen custom-built in your Glendale deck or patio. From a grill station to stone BBQ islands for chopping onions, slicing tomatoes, and general food preparation, you can maximize utility in your outdoor kitchen with a variety of features. Combine these with outdoor cabinets and tabletops, and you've got potential for ultimate outdoor breakfast, lunch, and dinner. And here's the best part – you can get a free estimate on everything!
Cabinets For Glendale Patio Kitchens
Storage space helps a lot no matter where you are. But when you've got an outdoor kitchen in your Glendale deck or paved patio area, you can utilize the space even better with outdoor cabinets. Keep everything from dishes to utensils in your patio cabinets, without worrying about moisture or other damage sources. Our custom-built cabinets for outdoor kitchens can have wooden frames with a protective coating. But you can even go more affordable and durable with composite outdoor cabinets. This can help you maintain the attractive appearance of wood, but without having to regularly apply a new protective layer.
BBQ Island and Outdoor Grill Stations
Apart from food preparation areas, you also need somewhere to do some actual cooking. A grill station in your outdoor kitchen deck lets you do that with all the utilities you need. From water features to wash some stuff to gas infrastructure and electricity. Our Glendale deck contractors custom build outdoor kitchens with all the necessities. Your enjoyment of our work is paramount to us. So a grill station is one of the most essential features for outdoor kitchens where the customer plans on doing some cookouts and alike.
Outdoor Tabletops – Stone, Composite, and Wood
The seating arrangements and table sets for eating out in your outdoor kitchen need to have certain capabilities. You want to have outdoor tabletops that stay strong and sturdy and won't have to receive special maintenance to deal with moisture or direct exposure to sunlight for prolonged periods. Our custom-built outdoor kitchen tables and chairs provide maximal efficiency as well as aesthetics. You can choose from stone tabletops for outdoors or go with more classic wooden tables or wood-like options. The same goes for seating. Choose paved benches or crafted wood for the ultimate outdoor kitchen set for your Glendale patio.
Free Quotes From Contractors Near You
Looks and utility should go hand in hand if you ask us. That's why the custom-built outdoor kitchens we make for patios and decks offer customers the best of both worlds! Discuss all the details with our professionals to see what wonderful designs and features you can pick for your outdoor kitchen. We'll meet with you to go over everything, make some suggestions and give you a free estimate on the whole project. Reach out to us anytime via email or phone to schedule a no-obligation consultation with the best Glendale outdoor kitchen contractors in your area.